Presenting

Meet Joe Black

1998 Black Tobiano Stallion
APHA #493873

Nickety Do Dah X Scenics Skip Hi

Certified Homozygous by UC Davis

OLWS Neg. (papers pending)





Meet Joe Black is a 1998 homozygous black and white tobiano stallion.
Joe has a wonderful disposition, excellent mind and superb athletic ability!
He has achieved year end results at halter, being the MRVHA
Reserve Champion Stallion for 2000 and has been started in western pleasure
and Hunter Under Saddle. Joes first outstanding foal crop arrived in 2002
and he has shown himself to be a superb producer of quality foals!

Pictures of Joes first few foal crops will be coming as soon as possible!


Click on the thumbnails for larger photos!
This page best viewed at 800 X 600 pixels.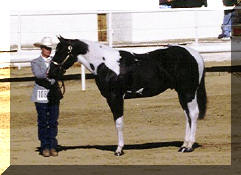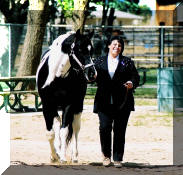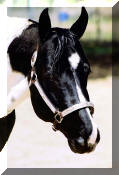 (Picture at left) Joe at a MRVHA show in Nov. 1999, what a gentleman!
(Pictures at middle and right) Andrea and Joe at their last show.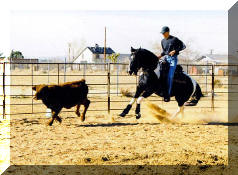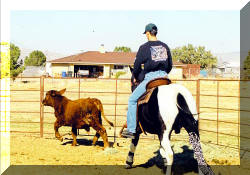 Joe and Zack, working in the pen with Red the steer!


2006 Fee: $800 LCFG
Includes booking fee of $150

Shipped Semen Available

Mare Care $6.00 Dry/$8.00 Wet

Multiple Mare Discounts and
Foal Scrapbooks Available


Call or email for a contract and more details


Pedigree of Meet Joe Black APHA #493873
Nickety Do Dah
Bay Tobiano

Spookie Do
Black Tobiano


I'll Do
Black Tobiano

Scootin Spook APHA

Guess Isle Go AQHA

Unknown

Unknown

Unknown

Bold Hustle
Chest. Solid

Hustler
Sorrel Overo

Scribbles

Sue's Little Hobo

Sweet Nothing
Chest. Solid

Bold Chick

Miss Sweet Charity

Scenics Skip Hi
Black Tobiano

Scenic All Star
Black Overo

Surprise Tag
Brown Overo

Tag's Warren AQHA

Priestess AQHA

Croton Oils Star
AQHA

Lynn Win

Jett's Juliet

Skips Doll Baby
Black Tobiano

Skip On
Sorrel Tob.

Skip Hi

Slippers

Sal Lee Miller
AQHA

Mickey Miller

Tad's De De

Home

Wood Smoke Cowboy

Foal Scrapbook

Horses For Sale



Training Tips

Our Family & Horses

Links

About the Paint Horse

Last Updated 2/22/06
CRR2003